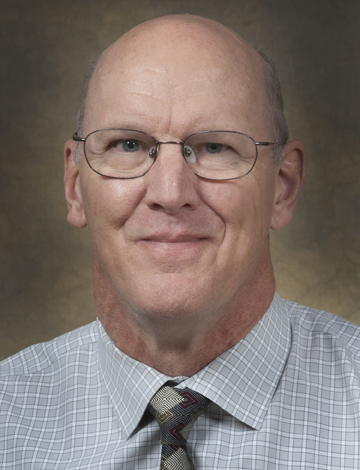 Dennis Goebel
Position Title
Associate Professor
Office Phone
313-577-8724
Biography
Dr. Goebel is a trained retinal neuroanatomist, whose collaborative work has contributed to the understanding of retinal neurocircuitry and function. Dr. Goebel received his MS in Chemistry in 1988 and Ph.D in Anatomy & Cell Biology in the laboratory of Roberta G. Pourcho in 1991 from Wayne State University. He continued his training as a postdoc in the Department of Cellular and Molecular Neurobiology at Sinai Hospital (Detroit) under the direction of Dr. Michael Bannon. In 1994 he rejoined the Department of Ophthalmology, Visual and Anatomical Sciences at Wayne State University, as Assistant Professor of Research in 1994, and remains, as a tenured Associate Professor, in the department.
Academic responsibilities
In addition to his research interests, Dr. Goebel continues to serve as a core teaching faculty member of WSU-School of Medicine's Year I Human Gross Anatomy, Human Embryology and Human Neuro- Anatomy courses. He also continues to serve as a Co-Chair for the WSU School of Medicine's Medical Student Research Programs.
 
Research
Incorporating his biochemical/ molecular cell biology training, Dr. Goebel has focused his research on refining an in vivo retinal toxicity model. This model has allowed his lab to develop quantitative molecular, biochemical and cytochemical assays, in addition to anatomical assessments, that monitor distinct cell death pathways mediated by glutamate excitotoxicity. Employment of this animal model has allowed for the testing and characterization of a novel set of compounds designed to target unique binding domains of MAGUK intracellular scaffolding proteins that associate and regulate the cytosolic domains the TrkB and NMDA ionotropic glutamate receptors. Resulting studies have yielded several novel discoveries that have significant therapeutic potential in preventing neuronal damage/death resulting from an ischemic event in affecting the retina and brain, as well as demonstrating tremendous promise in restoring important cell signaling events that are essential for memory formation/retention. These studies have led to unique collaborations here at Wayne State University, and with investigators at Brown University, Dartmouth University, Chapman University and the University of Michigan.
Selected publications
Goebel, D.J., and Winkler, B.S. (2006). Blockade of PARP activity attenuates poly(ADP-ribosyl)ation but offers only partial neuroprotection against NMDA-induced cell death in the rat retina. J. Neurochem. 98: 1732-1745. DOI# 10.1111/j1471-4159.2006.04065.x
Goebel, D.J. (2009). Selective blockade of CaMKII-α inhibits NMDA-induced caspase-3-dependent cell death but does not arrest PARP-1 activation or loss of plasma membrane selectivity in rat retinal neurons. Brain Res., 1256: 190-204. DOI# 10.1016/j.brainres.2008.12.051
LeBlannc, B.W., Iwata, M., Mallon, A.P., Rupasinghe, C.N., Goebel, D.J., Marshall, J., Spaller, M.R. and Saab, C.Y. (2010). A cyclic peptide targeted against PSD-95 blocks central sensitization and attenuates thermal hyperalgesia. J. Neurosci., 167:490-500. DOI# 10.1016/j.neuroscience.2010.02.031
Cao, C., Rioult-Pedotti, M., Migani, P., Yu, C.J., Tiwari, R., Parang, K., Spaller, M.R., Goebel, D.J. and Marshall, J. (2013). Impairment of TrkB-PSD-95 signaling in Angelman Syndrome., PLOS Biology, 11(2): e1001478. DOI#: 10:1371/journal.pbio.1001478.
Bissig, D. Goebel, D. and Berkowitz B.A. ( 2013). Diminished vision in healthy aging is associated with increased L-type voltage gated calcium channel ion influx. PLOS One 8(2):e56340. DOI:10.1371/journal.pone.0056340.
Marshall, J., Wong, K., Rupasinghe, C., Tiwari, R., Zhao, X. Berberoglu, E.D., Sinkler, C. Liu, J., Lee, I., Parang, K., Spaller, M.R., Hüttemann, M. and Goebel, D.J. (2015). Inhibition of N-methyl-D-aspartate induced retinal neuronal death by polyarginine peptides is linked to the attenuation of stress-induced hyperpolarization of the inner mitochondrial membrane potential. J. Biol. Chem. 290(36) 22030-22048. DOI:10.1074/jbc.M115.662791.